. . . . . . . . . . . . . . . . . . . . . . . . . . . .
2023 Astro Event Guide (AEG) now just $10 (50% off)!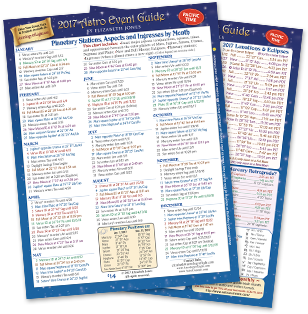 Get an overview of all the most important astrological events for 2023 on this handy, 2-page, one-of-a-kind guide (not to be found elsewhere).
I'm a professional astrologer and started creating AEG in 2005. The primary reason I continue to create AEG every year is because I refer to it almost daily (I keep it on my computer desktop). You can check out previous years here (and download any you want for free!)
Sending Blessings & Light to you in 2023
~Elizabeth Jones, Astrologer
Included on 2023 Astro Event Guide :
A concise, handy listing of all key astrological events for 2023.

Available in four USA time zones (PT, MT, CT, ET)

Side A lists events by month (aspects, lunations and stations)

Side B gives events by degree (a unique view of the year's key events by degree and sign)

Also on Side B: Mercury retrograde periods (including when it hits the shadow point)

Plus: All New and Full Moons, as well as Lunar and Solar Eclipses

Planetary stations: When and where each planet turns retrograde or direct

Planetary ingresses: When each planet changes signs

Key aspects between planets (included are Mars, Jupiter, Saturn, Uranus, Neptune and Pluto).

All this info color-keyed and on two pages for quick reference!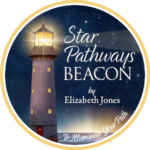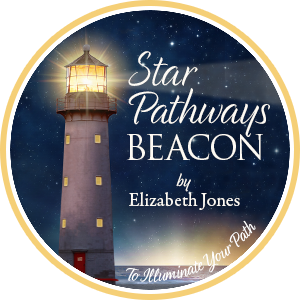 A new version of the The Star Beacon is now available & is currently being offered on a donation basis!
Find out what's going on during the 30 days of Solar Gemini (5/21 to 6/21)  here. 
"In my 35+ years as a student of, and then professional astrologer, I have NEVER come across anything like AEG! I print off several copies (you can too) and place them in sheet protectors for ease of use and refer to it often throughout the year!" ~Elizabeth"

What others say about the AstroEvent Guide
™

:
Thank you so much for this truly valuable resource. I've been using AEG for years and hope you offer it for many years to come.
~ HARRIETT

The AstroEvent Guide is such a wonder! So handy to have all this 2022 info on a 2-page guide. I refer to it often throughout the year. So glad you're still doing after all this time!
~ YVONNE

Thank you for continuing to offer this wonderful product! I write an astrology column and use it constantly for reference. What a great service you provide.
P. LILES

"Hi Elizabeth, just wanted to congratulate you on a unique, useful, and well planned product! I will be keeping the Astro Event Guide nearby!
GLENN PERRY Association for Psychological Astrology