Astrology and Tarot crossover in many ways and dovetail beautifully, deepening and enriching what each can bring us. So I'll be adding some astrology as well.
2020 has been a life-changing year for many as we shifted into a new field of astrological and cosmic energy last December at the Winter Solstice (Summer-So. Hem) bringing us to a major crossroad while also ushering in a pivotal time for us personally, culturally, spiritually and in other ways.
Things are intense and chaotic yet are also exciting and filled with possibilities for personal growth bringing openings to new levels of spiritual potential. As a result many are experiencing their life priorities shifting as though something from deep within is calling. Perhaps it feels like the Universe is inviting you towards something…but what?
There are many rare and dynamic astro-events occurring that help to explain this time which I go into further on StarPathways.com and on each Monthly Beacon. But one astro-event is happening now…in this hour…that will have a significant impact on the next 6 months, as a new Mars cycle is beginning making it a perfect time to be doing this reading focusing on the remainder of 2020.
Mars rules our overall energy and how and where we direct our focus among other things. And this evening Mars is entering its own sign of Aries, which initiates the beginning of its 2-year cycle as it takes that long for Mars to orbit the Sun.
So in this reading we're going to ask the cards for insights into the remainder of 2020 for those listening, which, btw, I feel is a soul group. Before I pull the cards I want to share what that means as it relates to this reading.
We each are a part of several different soul groups. And since you're listening I feel you are all linked in some mystical way because of this. This doesn't mean that your lives are similar as you all come from different backgrounds and paths. Rather SG who come together for these group reading are linked b/c you likely share guides, masters or teachers and so your soul paths cross over in some ways and have similar challenges, lessons or agendas as well as guidance and support from the Universe. Hence the information in this reading will be, in some fashion, directly related to your path and experience in the coming months.
Lastly know that while you may not relate to everything I say about a card, you will very likely hear some messages that resonate with and feel specific to you and your situation. Pay attention to that!

What does the 2nd half of 2020 hold for you?
1-What card can help you better understand the changes and deeper patterns unfolding in your lifein the next few months?
Page of Swords
 2-What might be blocking you from accepting these changes?
9 of Swords
3-How can you make the most of this period (what new opportunities are possible)?
6 of Rods
4-How can you attune to the higher frequencies present during this time?
3 of Cups reversed with the Hermit IX
5-What message does Spirit have for you in regards to this time?
Page of Cups
6-What can I do to be more positive with these shifts and changes?  
Judgement XX
7-What might I be missing because of the distractions?
9 of Rods
>Here are some additional questions you can pull cards for on your own to get further clarifications and insights into the coming months:
How do the major changes occurring in the world at large relate to me personally?

What will be my major challenge during this time?

What will help me in dealing with this challenge?

What do I need to become more conscious of?

What is the overall theme of this period?

What should I pursue/focus on?

What is the direction my spiritual path is taking me during this time?

What is hindering me from embracing the higher energies that I may not be consciously aware of?

What do you need to let go of/release in order to reach my higher potential during this time?


Here are some of the things people have said about these readings:
I just listened to the Tarot readings and it was 100% relevant to my life situation…truly amazing!! ~Annie 
Dear Elizabeth, I just finished listening to the Tarot reading and OMG it was spot on! It felt like you were talking to me personally! ~Susan
Wow Elizabeth, I must say I am LOVING this format for Tarot readings. They are unlike anything I've heard and have been so very helpful to me personally. Not sure how it works but they sure do! Much appreciation and in gratitude, ~Kathy
Sending blessings & light to you in this dynamic time, 
Elizabeth
If you feel drawn to this message and my work I invite you to check out my "flagship"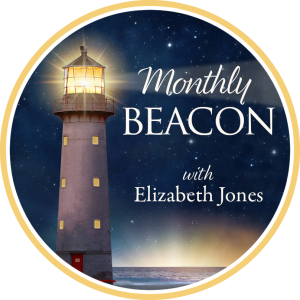 offering Monthly Beacon Astro & Tarot where I discuss the astrological and cosmic events taking place each month. On the Beacon I seek to help you get a feel for these energies and influences, while offering ways for you to align with the higher frequencies present, in order to help you navigate these times. The information given is for the astrological novice and student alike. 
You can try the 1st month at a generous discount and can cancel anytime, so there's nothing to lose by giving it a try. You can learn more about Monthly Beacon here.
I look forward to connecting with you on the Beacon each month.