2018 Astro Event Guide (AEG)
AEG is a concise and easy-to-use reference guide for 2018,
listing the key astrological events for the entire year!
Download this unique 2-page PDF immediately upon purchase.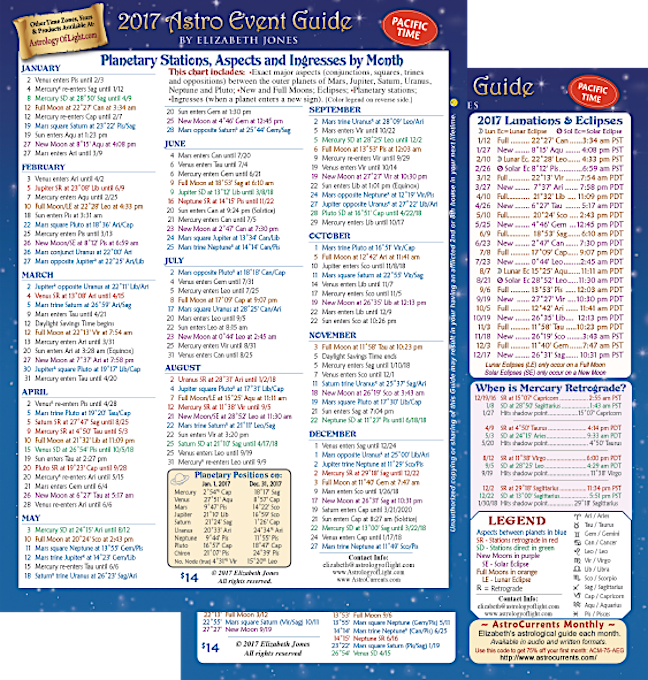 When you purchase AEG, you can download any or all of the 4 time zones* AEG comes in.
* Pacific, Mountain, Central, Eastern
FREE ~ You can check out what's on the 2018 AEG by downloading (for free) the 2016 & 2017 AEG here ~ FREE
100% Satisfaction Guaranteed! If for any reason you are not 100% satisfied with AEG, just let us know within 15 days of your purchase and we will refund the amount of your purchase, no questions asked. We want you to be happy with your Astro Event Guide!
Features of the Astro Event Guide…
AEG is uniquely informative, handy and concise in an easy-to-use and not-to-be-found-elsewhere format.
You will find you refer to your Guide as often as your 2018 ephemeris!
An invaluable reference tool for any level Astrologer ~ Professional, novice or student.
AEG is in PDF format and available to download immediately.
Get all four USA time zones in one purchase!
Included on your 2018 Astro Event Guide…
Listing of all key astrological events for the year.
Key events by month (ingresses, aspects, lunations and more)
Key events by degree (a unique view of the year's key events by degree and sign)
Mercury retrograde periods (including when it hits the shadow point)
All New and Full Moons, as well as Lunar and Solar Eclipses
Planetary stations: When and where each planet turns retrograde or direct
Planetary ingresses: When each planet changes signs
Key aspects between planets (included are Mars, Jupiter, Saturn, Uranus, Neptune and Pluto).
All this info color-keyed and on two pages for quick reference!
Order your 2018 Astro Event Guide here!

(A 2-Sided PDF that you can download immediately.)
2018 Astro Event Guide
$14
"In my 35+ years as a student of, and then professional astrologer, I have NEVER seen anything like it! I print off several copies (you can too) and then get them laminated (or place in sheet protectors) for durability and ease of use. Even though I am the creator of the Astro Event Guide,
I refer to it often throughout the year!"
~Elizabeth
The Astro Event Guide
TM

is for:
Anyone interested in astrology
Members of AstroCurrents Monthly (ACM)
Students at any level
Amateur Astrologers
Professional Astrologers
This is a wonderful tool for Astrology schools (Contact us for discounts!)
Lastly–even if you don't make use of all the wonderful and unique features on ACM there will be some you will likely LOVE! Such as the accurate listing of New and Full Moons in your time zone and the When is Mercury Retrograde section.

What others are saying about the AstroEvent Guide
™

:
"Thank you for continuing to offer this wonderful product!
I write an astrology column and use it constantly for reference. What a great service you provide.
P. LILES

"Hi Elizabeth, just wanted to congratulate you on a unique, useful,
and well planned product! I will be keeping the Astro Event Guide nearby!
GLENN PERRY Association for Psychological Astrology

"This reference guide is ingenious.
Like others, I cannot tell WHY no one has done this before! As an astrologer I know the amount of time it would take me to compile a year's worth of quick-reference planetary info. The convenience of having your yearly Astro Event Guide close at hand would be a bargain – even at twice the price!
KATHY L.